Chefs are in demand! Who are these chefs that are making waves? They describe themselves in one sentence. They share their aspirations for the future, who their role models are and their qualities that they most admire. We believe in encouraging reading for both pleasure and instruction – hear from our Chefs what they are currently enjoying.
Julian Adams
The Vineyard Hotel
Born to be a chef.
Head Chef anywhere in the world.
Peter Tempelhoff Worked with him.
Korean Cooking: Explore One of the Orient's Greatest Culinary Secrets by Hilaire Walden
Isaac Chitter
Mount Nelson
A Belmond Hotel, Cape Town
I am a calm, loving and honest person.
I want to be a sous chef in five years time.
Chef Paul Hartmann He gave me the platform and knowledge of cooking.
The Professional Chef The Culinary Institute of America, Wiley
Kenneth Mkandawire
TAJ Cape Town
Self motivated, confident, go getter, team player, intuitive and God fearing.
Seeing myself as an Executive Chef.
David Tilly The way he understands food is so amazing. I am learning a lot from him.
Larousse Gastronomique
Zayaan Abbas
The President Hotel
I am ambitious and goal driven.
In a few years I would like to have my own cooking show.
Jamie Oliver His cooking styles are infectious.
The Science of Cooking: Every Questioned Answered to Perfect Your Cooking by Stuart Farrimond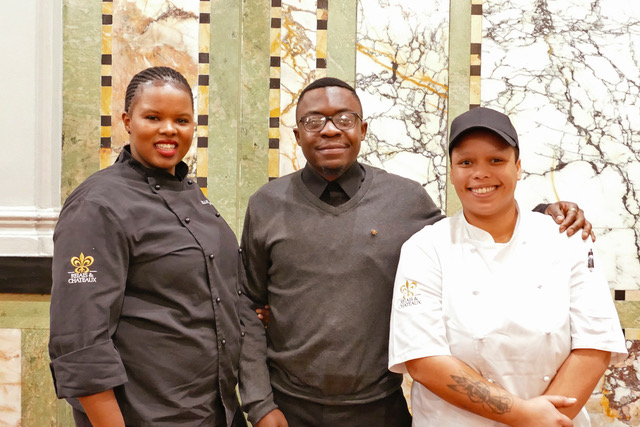 Glynis Kühn
Ellerman House
Passionate, go getter and competitive.
I would like to develop my skills more as a chef to benefit the company and achieve my career goals.
Peter Tempelhoff He is in the Top 50 Best Chef Awards, he is passionate about food and motivating.
My Mother She is the strongest person I know.
Malouf: New Middle Eastern Food by Greg and Lucy Malouf
Songezo Zide
Southern Sun Cape Sun
When it comes to my duties, I set to keep the standards high.
I would like to see myself in a five star Michelin restaurant.
Gordon Ramsay His consistency in running a restaurant.
The Jamie Oliver Collection by Jamie Oliver
Bevan Trimm
Grande Roche Hotel
Easily excited and goal driven.
Head Chef at a restaurant.
Gerard van Staden He taught me everything I know that will assist me in being a Chef.
The Rules of Wealth: A Personal Code for Prosperity by Richard Templar
Fuad Martin
Southern Sun The Cullinan
I am eager to learn new things and place my own spin on it.
I would like to travel to learn and experience various styles of cooking and flavours.
Lindsay Venn He was able to guide me and give me the mental aptitude for this culinary journey.
Larousse Gastronomique
Nicole Theunissen
The Twelve Apostles Hotel & Spa
I am an innovative, creative, adaptable, quick learner and someone who is prepared to go above and beyond.
Working overseas in top restaurants and hotels in the world.
Gordon Ramsay He is one of the reasons I became a Chef.
Gordon Ramsay's Playing with Fire by Gordon Ramsay
Trisha Naidoo
Durban ICC
Independent, strong, hardworking, organised, loud and funny.
I would like to publish a cookbook, be a head chef running a kitchen with young chefs.
My late Aunt. She was a pillar over family and business minded individual.
Taste Magazine by Woolworths
Imraan Sithole
Southern Sun The Edward Hotel
I am ambitious in whatever I set myself out to do.
I see myself as a Sous Chef or even an Executive Sous Chef in five years.
Gordon Ramsay To me he shows that no matter your background if you work hard and believe in yourself you would achieve a lot more than you can dream of.
Dead to Me by Lesley Pearse
Shanice Roberts
Southern Sun Elangeni & Maharani
I describe myself as fun, enthusiastic with a passion for life, but shy.
In five years I'd like to be ten times more skilled, constantly growing and I see myself as someone's mentor.
My Mother She is honest and lives by the book. She's a great source of encouragement for me especially when I struggle. She never gives up.
Wild Heather by Catherine Palmer
Zandile Ngwane
Beverly Hills
I'm innovative and creative.
Five years should be enough time to have my own eatery.
Gordon Ramsay
Oranges by John McPhee
Ash Krishenduth
The Oyster Box
I am an energetic and self motivated individual who takes pride in attention to detail.
Head Chef
Parental figures who never quit despite the circumstances.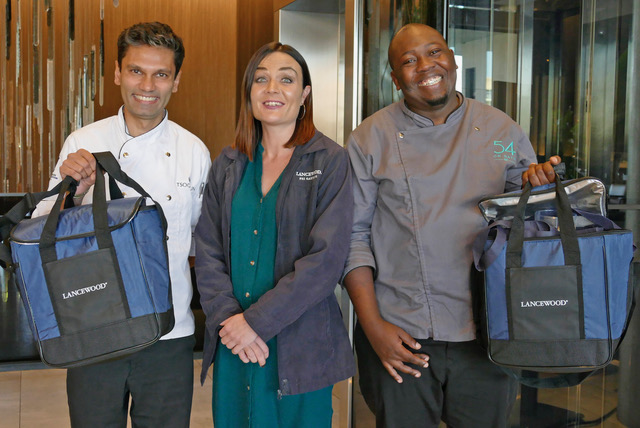 Senzo Mlambo
Southern Sun Gauteng
Passionate and ambitious.
Executive Chef at a fine dining establishment.
Massimo Bottura, Alain Passad and Jeong Kwan
The Noma Guide to Fermentation by René Radzepi
Thabang Magampa
Sun Time Square
Adaptable to Change.
Being a head chef somewhere.
Adrian Vaughan His consistency.
Taste: My Life Through Food by Stanley Tucci
Itumeleng Mogale
The Palace of the Lost City & Sun City Hotel, Sun City Resort
Passionate in everything I do.
Head Chef in a five star hotel
Stanley Skosana He always pushes me to be my best.
How to Cook Everything by Mark Bittman
Tshepo Tsheole
De Hoek Country Hotel
I am a loving and honest person.
I would like to develop skills, knowledge and see myself as an Executive Chef. My dream is to run my own kitchen.
Chef Fanie Sebapo The way he understands food. I am learning a lot from him. It's amazing.
In the Kitchen with Kris: A Kollection of Kardashian-Jenner Family Favorites by Kris Jenner
Cooking on a Budget by Sue Ashworth
Rowen Kakaira
Ivory Manor Boutique Hotel
I'm passionate about my work and career.
I want to better my work and career in the next five years.
My role models are Gordon Ramsay and my Executive Chef Derrick Brink. They always take their work to the next level.
I'm reading Kitchen Confidential: Insider's Edition by Anthony Bourdain.
@Showcookcom | #Distell #InterHotelChallenge2022 | #Showcook