So good to have met all the Candidate Bakers at the various regional Cook-Offs and seen their superb bread entries!
KIRSTIN HELLEMANN
Mount Nelson, A Belmond Hotel, Cape Town
Kirstin Hellemann says, "I'm a determined person always striving to do better than what I was yesterday. In five years I would like to have improved on all my weaknesses in my career and have turned most of them into strengths. (Bread baking to name one!) If I could visit anywhere in the world I've never been to it would be to Tuscany or the French Riviera."
CHADWIN SIMMERS
Vineyard Hotel
Chadwin Simmers describes himself, "I'm a fun, very energetic person always willing to learn new things. I strive to be the best I can when baking. The USA is on my travel bucket list."
LEON MHLONGO
I Love Coffee Group
"My aim is to run my own bakery in my hometown, Limpopo," says Leon Mhlongo. "I would share with the community all about bread and food that tastes good. People sharing bread and maybe even learning how to bake. I think it is a nice skill to have and also brings people together. Nick Vujicic is my role model, because his motivation touched my heart. He said he never gives up on life goals. He doesn't have arms or legs but that doesn't stop him from following his dreams. I also never give up on my dream to be a master baker. There isn't an excuse being Deaf, you can do anything. I am energetic and enjoy doing outdoor activities. I keep myself healthy and look after myself by hiking and eating well. I love trying new recipes and learning new ideas on how to stay healthy and challenge myself. I'm currently reading The Thorn Birds by Colleen McCullough.
KAY-LEE NIEUWOUDT
Grootbos Private Nature Reserve
"My name is Kay-lee Nieuwoudt. I am a 19-year-old pastry chef, a very bubbly person, always willing to learn something new everyday. I am currently working at a marvellous 5-star reserve, Grootbos Private Nature Reserve. I consider myself very privileged to have found my passion at a young age in pastry and to work with such amazing chefs. For me to be the youngest Chef at Grootbos, I definitely have to push myself more to show what this little teenager can do. My aims for the future are to become a well-respected version of myself. I would love to be one of South Africa's top pastry chefs and to be internationally known for my passion for the culinary arts.In five years I see myself as a Head Pastry Chef working on a cruise liner. I'd love to visit Italy one day (soon!).

My role model is Anna Olson. I relate to her bubbly personality, mixed with a blend of professionalism and enthusiasm. I have always been a fan of her cooking shows and the recipes she creates. She encourages, motivates and mentors her audience to be as great as her. I believe in learning through doing, so a lot of my ideas come from trial and error. I enjoy experimenting with new ideas from my own imagination and drawing from other chefs. I love pushing myself outside my comfort zone, and some of my best creations have come from this. I am not really a fan of reading books, but whenever I'm in doubt of a recipe I always seek help from Bake with Anna Olson. It has more than 125 recipes, full of delectable delights for every occasion, category and skill level.
NOKWAZI GIGABA
Southern Sun Elangeni & Maharani
Nokwazi Gigaba says, "I am a humble, independent and hardworking individual. In five years from now I see myself owning my own bakery. I would love to visit France."
DESMOND NIKWE
Durban ICC
"I am a family man and love what I do," says Desmond Nikwe. "I would like to see myself in a top position. I would love to travel to London."
SHAUN McGEE
Beverly Hills Hotel
"I would describe myself as a fun, adventurous and passionate chef with a zest for learning and teaching," says Shaun McGee. "I would like to travel the world, experiencing all sorts of foods and cultures. Next stamp in my passport will be to Asia, all over, from China to Singapore to India."
SIYABULELA TWALO
The Liz McGrath Collection, Cellars-Hohenort Hotel
"I'm and honest and hard working individual," says Siyabulela Twalo. "My aim is to run my own bakery. I would love to visit Austria and learn more about the bread they make there."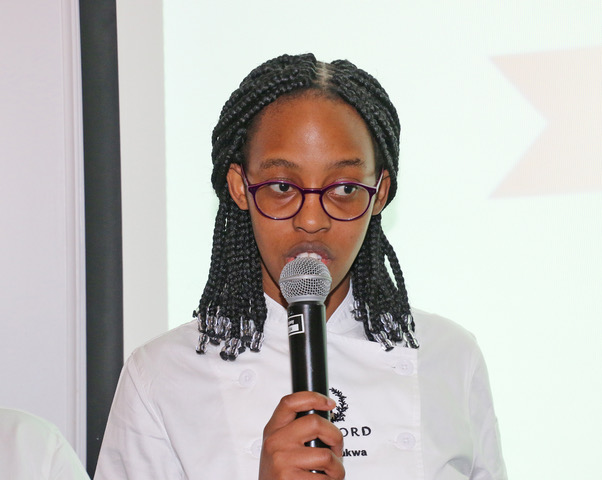 PHUMLA ZAKWE
Hartford House
Phumla Zakwe describes herself as helpful and loves to learn, absorbing knowledge at every turn. "In five years I would like to still be learning in this industry and perhaps having published a cook book on my food journey. I would love to visit Oxford University"
MOGOTSI MASIMOLE
The Palace of the Lost City, Sun City Resort
"I am an honest, loyal person, full of respect," says Mogotsi Masimole from The Palace of the Lost City, Sun City Resort. "I would love to visit America. My role model is my former manager, Mike the Baker. He showed me many things I didn't know and I followed his good advice. Pastry Chef Sean Mann taught me to never give up – no matter what. He used to say, "Take your time when doing things and you'll do it right." I'm broadening my knowledge by trying new things, accepting any challenge. In my spare time I love to read the Bible."
ZAKHELE NDLOZI
Sun Time Square
Zakhele Ndlozi describes himself as quiet, focussed and determined. "I would like to have my own establishments throughout South Africa. I would love to visit Paris, France – the home of fine patisserie."