For the past two years Johannesburg Marriott Hotel Melrose Arch, the flagship of Marriott in Gauteng, has been the generous host of the Distell Inter-Hotel Challenge Orientation Workshop. An important day that takes place each year with knowledgeable speakers in their field introducing topics that are broadening for the mind and stimulating for our candidates giving them a wider view for their future prospects.
Enjoying the day are candidates from Sun International; Thabang Magampa, Vuyani Mabeleng, Itumeleng Mogale and Obakeng Mothibakeledi
John de Canha, legendary GM spoke about changing perceptions and what is most important and pertinent in the hospitality industry after the Covid years.
Judge John de Canha with MC Wendy Coetzee who spoke about core communication and how using correctly will affect your future prospects while Executive Chef Louis van Reenen spoke about his life and experiences as a chef in some of the far flung places of the world – enthralling anecdotes which riveted his audience.
Distell's Kelly Berry and Julie Bamberger with Michael van Deventer of The Vinotèque Wine Bank who introduced the candidates to Distell's award winning wines and spirits showcasing their finest Nederburg, Durbanville Hills, Pongrácz and JC Le Roux with Three Ships Whisky, Van Ryn's Brandy and Amarula Cream Liqueur.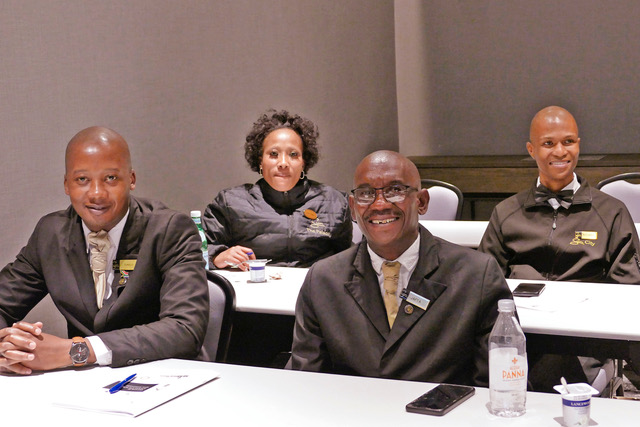 Tumelo Maoba (Wine Steward), Jafta Tshipe (Waiter), Mary-Kate Soqaka (Waiter) and Richard Mannafela (Wine Steward)
The Palace of the Lost City, Sun City Resort
Standard Bank's Tim Phaswane spoke about a five year plan on first steps to understanding the role of finance and vital implications. Tim focused on the necessity to plan ahead and make the strategic choices that will affect lives as they go forward.
Jean Vincent Ridon of Sommeliers Academy gave a detailed and thorough talk on the nuances of making fine and moreover memorable cocktails, explaining that thought and perfect planning go into these. Amarula Cream Liqueur, Three Ships Whisky and Van Ryn's Brandy with Sanpellegrino Italian Sparkling Drinks Pompelmo and Tonica Oakwood Extract were the excellent ingredients that were introduced to our wine stewards who will perfecting their cocktails at the final presentation on Monday 17th October at Capsicum Culinary Studio.
S.Pellegrino and Acqua Panna have introduced a very successful in-depth programme showcasing the different profiles and elements that make up these fine mineral waters with Jean Vincent Ridon giving our Wine Stewards pointers on presenting these exceptional mineral waters with the aplomb that they deserve.
Wine Steward Judge Jean Vincent Ridon (Sommeliers Academy) and Food & Wine Pairing Judge Germain Lehodey gave insights on delivering a polished performance to the Wine Stewards. For the Chefs, Germain, who has had years of exceptional experience, spoke about the true marriage of food and wine on behalf of the Cape Wine Academy.
Germain tells us, "I always say wine is a second sauce."
Thapelo Letsogo (Pastry Chef, Baker) and Tshepo Tsheole (Chef)
De Hoek Country Hotel
Judges are looking forward to seeing the Bakers present their elegant Ciabatta, crusty French Baguette and true South African wholewheat seed loaf prepared with Bio-Wheat Flour. The 'Kitchen Aid Bio-Wheat Baker of the Year 2022' receives a KitchenAid Food Processor while the hotel receives a KitchenAid Commercial Mixer.

KitchenAid with its international reputation for superb quality is a most generous supporter of the Challenge giving away a fine array of prestigious prizes to our major winners, which they have continued to do for ten years.
(Below right) Ashleigh Christie of Minor Hotels, Regional Director of People & Culture spoke about thoughtfulness and empathy in our daily lives. Ashleigh has been instrumental in providing carefully planned internships at her stunning Minor Hotels both in Europe and in the East. Incredible and meaningful experiences for our candidates chosen especially to allow them to understand many other cuisines and to be able on return to pass on skills gained and deeper insights. Interestingly, Ashleigh has also provided Anantara Royal Livingstone, a stunning hotel in Zambia on the banks of the Zambezi River to Jane-Therese Mulry as Mentor of the Year 2019.
Food Judge Jane-Therese Mulry (Plant Cooperative) who has had varied and superb years in the hotel industry coming from Australia at the time one of the world leaders in the shaping of a new style of cuisine, highlighting sustainability, best usage of local ingredients and introducing the concept of relationship building from farmer to table. Jane Therese spoke brilliantly on the visual aspect of food and the art of plating and the food path that South Africa is and should be taking.

Talking about quality ingredients Certified Karoo Lamb ticks all the boxes. We are fortunate in South Africa to have sa number of ingredients that are unique both climate wise and terroir wise. Hopefully this list can grow…
Among the ingredients we are doing very well at are consistently excellent cheese from Lancewood, our style of mushrooms from Denny and our splendid flour Bio-Wheat, certainly Rio Largo Olive Oil is making waves while our citrus, ClemenGold and LemonGold are becoming a by word for quality. Senqu River Pistachios are often a first choice for nut lovers and Hot Chefs and Pastry Chefs appreciate the quality of these little treasures and the many interesting ways they can be used to advantage.
Brenda Wilkinson who for many years showed off South Africa's burgeoning olive oil industry, introduces the SA Olive Association and Jackie Loubser who shares the joy of tasting top South African olive oils, which are earning their place on world tables.
The SA Olive Association is there to protect the interests of our olive oil producers, to introduce our excellent olive oil to a wider audience giving them a more in-depth understanding of the nature of olive oil and the way in which it can enhance our every day eating and nutrition to nurture the quality and excellence of this vital product.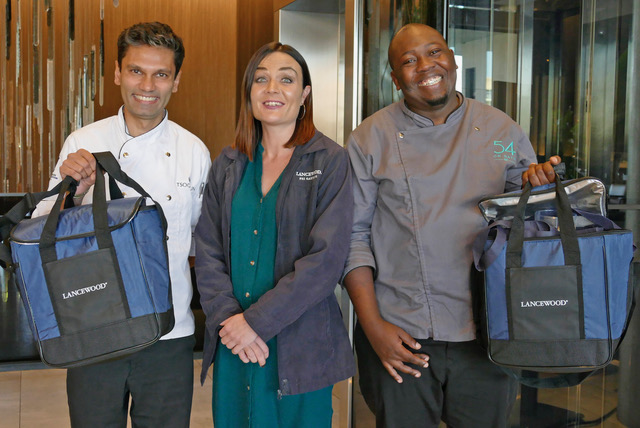 Natasha Smit of Lancewood very charmingly explained the way in which Lancewood protected the quality of their fine cheeses with continual research and innovation. Natasha presented the winners of the ever popular Q&A; Executive Chef Kalpesh Hansjee of 54 on Bath and Chef Senzo Mlambo with hampers filled with a variety of delectable treats – a veritable food experience!
The 'Lancewood Pastry Chef of the Year 2022' is invited to experience a three-week internship in France, the home of fine patisserie at the exquisite Château La Creuzette in Boussac with hosts Louis Jansen van Vuuren and Hardy Olivier. A ravishing prize where the winner will continue to broaden culinary skills and at the same time absorb that incomparable French flair.
Flights are courtesy of Lancewood plus a cash prize to cover their VISA, Medical Travel Insurance, at the time of Travel.
Calling all cooks, pastry makers and for anyone that is a lover of fine citrus, LemonGold provide you with the ultimate choice, seedless lemons. Each choice fruit delivers perfect fragrance, flavour and texture. It is quite understandable that LemonGold is becoming one of South Africa's most successful exports.
Obakeng Mothibakeledi (Pastry Chef)and Thabang Magampa (Chef)
The Maslow, Sun Time Square
Southern Sun Gauteng Team Chef Senzo Mlambo with Wine Steward Prince Zondo, Palesa Mokoena (Pastry Chef & Baker) and Mapaseka Maloba (Waitress)
Itumeleng Mogale (Chef), Lindiwe Ncala (Baker), Stanley Skosana (Executive Sous Chef), Lucas Ramokgadi (Pastry Chef and Baker) and Vuyani Mabeleng (Pastry Chef), The Palace of the Lost City and Sun City Hotel, Sun City Resort
Baristas and Wine Stewards honing their skills with Oz Davids and Caroline Ncube of Avanti SA; Thato Makaudi (De Hoek Country Hotel), Richard Mannafela (Sun City Hotel), Timothy Rakgwatla (Southern Sun Gauteng Team), Karabo Motla (Montecasino, Tsogo Sun), Charles Maboshigo (Ivory Manor Boutique Hotel), Sibusiso Zwane (Sun Time Square) and Irene Ndabukelwayo (Sun City Hotel) and Mbulelo Duma (Johannesburg Marriott Hotel Melrose Arch and Protea Hotel FIRE & ICE! By Marriott Melrose Arch).
Itumeleng Mogale (Chef), Raphael Maseko (F&B Floor Manager), Lindiwe Ncala (Baker), Zanele Dlomo (F&B Manager) and Vuyani Mabeleng (Pastry Chef), The Palace of the Lost City, Sun City Resort
The Mentor of the Year will be awarded a splendid weekend at Grootbos Private Nature Reserve, an exceptional estate – everyone's dream retreat. A rewarding prize for a valuable key player for the success of the team.
Derrick Brink (Executive Chef), Perfect Makarichi (Pastry Chef & Baker), Lona Mngini (Chef), Charles Maboshigo (Barista) and Hazell Mutungura (Wine Steward) Ivory Manor Hotel Team
Entrepreneur and author, Nancy Gaylard, is the founder of Not Just Consulting in South Africa having spent more than 20 years in hospitality. Nancy spoke about the value of communication in all its forms and the impact on day to day interactions for people that are experiencing disability and how this helps them to become valuable members of society. Giving them tangible help in expressing themselves – that is what communication is all about.
Nancy's book 'Once Upon A Sign: Ayen's First Day' published by LAPA Publishers, an Imprint of Penguin Random House South Africa will be officially launched in September 2022 which is Deaf Awareness Month, and the story will help to create greater awareness of this important theme. This first book introduces a new series which is aimed at celebrating and representing diversity through characters of different abilities, races and backgrounds.
Nancy's aspirations for the new book are to help people learn sign language, which is now recognised as the 12th official language of South Africa, and learn about different disabilities in our world. She wants readers to appreciate that people are different and we need to learn to understand how we can all work together. She says, "One person's weakness is another person's strength."
Penguin Random House's inspirational authors and a new generation of talented cooks ~ The candidates enjoyed hearing how Liziwe Matloha turned her love and passion of food into a thriving business!
Dinner at Matloha's is about bringing family and friends together around the table. As dishes are passed around and plates are piled high, it is not only food that is shared. Conversation flows, people smile, and stories are told. Sharing a meal provides unity in our daily lives. Liziwe's food is unpretentious and flavourful. She values authenticity and loves finding new ways to showcase ingredients that reflect her culinary heritage and share her passion for food that is easy to prepare and appeals to the whole family.

Liziwe Matloha wears many hats: chef, wife, mother, recipe developer, brand ambassador, food writer, cookery teacher. Growing up in a big family in Potchefstroom, she began cooking in her teens, often helping to prepare a 'seven colours' Sunday lunch. Seeing people appreciate her food spurred her ambitions to become a chef. After she graduated from Capsicum Culinary School, she started hosting cooking classes at her home. It wasn't long before four students became twenty, and the kitchen had to be expanded…
Catering gigs led to requests to cook for private dinners. In response, she established Dinner at Matloha's, an exclusive dining experience in her own home for family celebrations, special occasions, or just for friends to come together around a table laden with good food.

See the Distell Inter-Hotel Challenge YouTube Channel
https://youtube.com/playlist?list
=PLXCTyqZGfREd7IEI5
BEhWYc6Iq8LMadAF
@Showcookcom | #Distell #InterHotelChallenge2022 | #Showcook