A warm welcome by Lindiwe Rakharebe, the proud CEO of the Durban International Convention Centre (Durban ICC), acknowledged as one of the leaders in their field in Africa. The reputation of the Durban ICC has spread far and wide under her inspired leadership.

Executive Sous Chef Clinton Bonhomme prepared the most bountiful, hot and delicious lunch for the Orientation Workshop hosted recently for the Distell Inter-Hotel Challenge. The banqueting team's arrangements were impeccable, accommodating and so helpful. As a mentor Clinton sets a fine example and is very proud to present his excellent Pastry Chef Candidate Sandile Makhathini along with his impressive team.
Wine Steward Judge Jean Vincent Ridon of Sommeliers Academy continues with his important work escalating standards in the hospitality sphere.
For the past decade the partnership with Distell has been a remarkable one as they have had a keen understanding of the Challenge and it is this that underpins their commitment providing opportunities for this unique initiative. In addition, their enthusiasm and interest for the programmes that we have introduced with their assistance and support, have been vital for continued growth.
Wines and Spirits were the order of the day and Sarah Marinelli, Manager Distell Premium Wines, spoke about the finer points on certain of Distell's major wine estates; Nederburg, Durbanville Hills, Pongrácz and JC Le Roux, showing her wide wine expertise to an appreciative audience.

Michael van Deventer of The Vinotèque Wine Bank plays a vital role in the storage of premium wines exclusively for Distell, made candidates aware of the importance of the correct handling of wines from cellar to service.

Pieter Badenhorst, white winemaker for Nederburg, shared his deep passion and awareness of what is important to produce some of South Africa's exceptional and award winning wines.
Distell take the honours annually at top wine and spirit shows internationally; Van Ryn's Brandy, Three Ships Whisky and our great South African favourite, luxurious Amarula Cream Liqueur.
Wine Stewards; Nhlakanipho Mdletshe (Durban ICC), Siyanda Mthethwa (Southern Sun The Edward), Sibongile Majola (Southern Sun Elangeni & Maharani), Dumisane Mantshogo (Southern Sun Elangeni & Maharani), Jeremiah Govender (Beverly Hills) and Lunga Sithole (The Oyster Box)
Wine Steward Judge Sandy Harper (CWM), one of South Africa's top wine judges, nationally and internationally and founder of the Old Mutual Wine Club gave her insights, adding polish to exceptional wine service and showed off the finer points to food and wine pairing with the Cape Wine Academy.
The Cape Wine Academy is a most impressive establishment, the key to wine education for over four most successful decades. This year Principal Heidi Duminy has provided stepping stones to over 70 Showcook candidates with winning bursaries.
Karen Bloom (CWM) spoke knowledgeably on food and wine pairing from a judge's point of view to the Chefs, stressing the various options.
Lancewood is hard to beat for consistency and outstanding quality, but in addition they are a visionary company, making it possible for our winners to have three fantastic weeks at exquisite La Creuzette in France. An internship that will stand our winners in good stead for their future.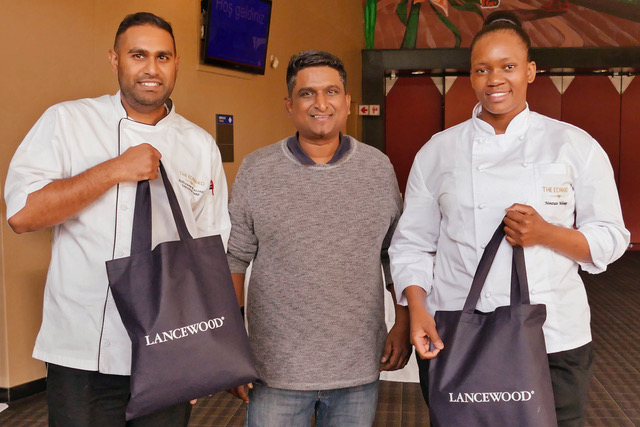 Avinash Naidoo, who represents Lancewood in Natal, spoke about the impact that Lancewood has made on the dairy industry in South Africa.

A highlight of the Lancewood presentation is always the ever-popular Q&A! This year won by Southern Sun The Edward Executive Chef and Mentor Athizaam Rassool and his Pastry Chef Nonzuzo Mhlungu. At the same time he shared where the winning Lancewood Pastry Chef of the Year is going, an announcement that was greeted with great pleasure and excitement.

Do see… https://showcook.com/blog/
2022/07/11/prizes-in-store/
Mentor of the Year 2021 Shaun Munro, Executive Chef Southern Sun Elangeni & Maharani, acknowledged far and wide as one of South Africa's top Executive Chefs, spoke about changing perceptions in the Hospitality world. Necessary that we all understand and appreciate the importance of these changes.
San Pellegrino travels the world! They are well known throughout the hospitality industry for their commitment and the vital part they play in education and skills promotion, a responsibility they take most seriously by promoting Young Chefs in their drive for sustainability and awareness. S.Pellegrino & Acqua Panna have become an integral part of our annual Challenge with stunning prizes from Clear World Suppliers and Italian Deli On Line.
S.Pellegrino and Acqua Panna, the famous Italian duo of mineral waters and Sanpellegrino Italian Sparkling Drinks were introduced to the candidates by Jean Vincent Ridon of Sommeliers Academy. In addition, he spoke about Cocktail Elements with Amarula Cream Liqueur, Three Ships Whisky & Van Ryn's Brandy with Sanpellegrino Italian Sparkling Drinks Pompelmo and Tonica Oakwood Extract.
Mentors Shaun McGee and Augustino Bedini of Beverly Hills with Trisha Naidoo, Durban ICC Sous Chef.
Lorna Gourlay of Platinum Marketing addressed the candidates with a concept that may be fresh for them and that is to 'Brand Yourself, Boldly!' Lorna will be joining the panel of judges on the Concierge front where she will be able to share the considerable knowledge that she has gained at one of South Africa's top hotels, Beverly Hills, for decades. Right now, Lorna Gourlay is one of a small band of market leaders in luxury events in South Africa.
Food Judge Hugh Von Zahn, who travels to our major cities; Johannesburg, Durban and Cape Town and leads the judging across the board, spoke about a fascinating subject; the impact of French cuisine, one of the great influential cuisines of the world that will always be with us as our strong foundation from which to grow.
Our vibrant and articulate MC Wendy Coetzee ~ The perfect partnerships and lucky draw!
BEVERLY HILLS ~ NEDERBURG & VAN RYN'S BRANDY
DE HOEK COUNTRY HOTEL ~ NEDERBURG & THREE SHIPS WHISKY
DURBAN ICC ~ JC LE ROUX & AMARULA
ELLERMAN HOUSE ~ NEDERBURG & VAN RYN'S
GRANDE ROCHE HOTEL ~ NEDERBURG & THREE SHIPS WHISKY
IVORY MANOR BOUTIQUE HOTEL ~ PONGRÁCZ & VAN RYN'S
JOHANNESBURG MARRIOTT HOTEL MELROSE ARCH & PROTEA HOTEL FIRE & ICE! By MARRIOTT MELROSE ARCH ~ JC LE ROUX & VAN RYN'S BRANDY
LANZERAC HOTEL & SPA ~ JC LE ROUX & AMARULA
MOUNT NELSON, A BELMOND HOTEL CAPE TOWN ~ PONGRÁCZ & VAN RYN'S BRANDY
QUEEN VICTORIA HOTEL & MANOR HOUSE WATERFRONT ~ DURBANVILLE HILLS & AMARULA
SOUTHERN SUN 1st TEAM ~ JC LE ROUX & THREE SHIPS WHISKY
SOUTHERN SUN A TEAM ~ DURBANVILLE HILLS & VAN RYN'S
SOUTHERN SUN ELANGENI & MAHARANI ~
DURBANVILLE HILLS & THREE SHIPS WHISKY
SOUTHERN SUN GAUTENG TEAM ~
DURBANVILLE HILLS & AMARULA
SOUTHERN SUN THE EDWARD ~ DURBANVILLE HILLS & AMARULA
SUN CITY HOTEL ~ DURBANVILLE HILLS & THREE SHIPS WHISKY
SUN TIME SQUARE ~ NEDERBURG & AMARULA
TAJ CAPE TOWN ~ PONGRÁCZ & THREE SHIPS WHISKY
THE OYSTER BOX ~ PONGRACZ & VAN RYN'S
THE PALACE OF THE LOST CITY, SUN CITY RESORT ~
NEDERBURG & THREE SHIPS WHISKY
THE PRESIDENT HOTEL ~ NEDERBURG & AMARULA
THE ROCKEFELLER HOTEL
THE VINEYARD ~ DURBANVILLE HILLS & AMARULA
THE TWELVE APOSTLES HOTEL & SPA ~
JC LE ROUX & THREE SHIPS WHISKY
VOCO™ | JOHANNESBURG ROSEBANK
Good olive oil in South Africa, most fortunately we have and this valuable commodity is travelling the world assisted by our olive oil ambassador Brenda Wilkinson of Rio Largo Olive Estate, one of our olive oil pioneers. Today, we simply cannot do without using our olive oil on a daily basis. Brenda introduces us to Vittoria Jooste who represents the SA Olive Industry Association sharing SA's burgeoning olive oil industry in all its growth.
Denny Mushrooms – A South African company putting premium quality mushrooms on our menus on a daily basis, budget friendly and well researched, proven over the years, that mushrooms are packed with the natural goodness we all need. Our super food that adds a touch of magic to any meal!
For anyone that is going through our bitter winter, a touch of LemonGold® add their special benefits and they do it in the most fragrant way. Using these seedless lemons are such a pleasure and combined with honey make the most superb early morning start to the day. A fruit for all seasons – a South African product shown off at its best giving us the plus factor.
A Power Packed Team!
Bakers & Pastry Chefs to the fore; Malusi Hlangu (Durban ICC), Andile Mfeka (Southern Sun The Edward), Eon Le Roux (Southern Sun Elangeni & Maharani), Nokubonga Dladla (The Beverly Hills), Nonzuzo Mhlungu (Southern Sun The Edward) and Nontiskelelo Msweli (Beverly Hills), Sandile Makhathini (Durban ICC) and Thembinkosi Cele (The Oyster Box)
Mr Real Deal himself setting a fine example in producing wheat with the food values that matter. Heinie Fourie is a biological wheat farmer and together with his wife, Tirsa, have provided us with (what we like to call) the real deal, Bio-Wheat.

We are so proud to have them on board. Breads made with Bio-Wheat are essential for our health plan and we are fortunate to have Heinie growing the nourishing wheat, which we need so much at this time.
Baristas; Sifiso Mngadi (Southern Sun Elangeni & Maharani), Nkosikhona Mkhize (The Beverly Hills), Lungisani Mnguni (Southern Sun The Edward) and Phakamile Hlongwa (Durban ICC)
with Robert Shazi (Avanti SA), F&B Manager Phakeme Zondi (Southern Sun The Edward) and Paula Visser (Avanti Coffee SA)
Avanti is passionate about training and skills sharing, promoting the career of a barista. Making sure that travellers to South Africa will have a coffee experience of note. Paula Visser charts the way!
We would like to introduce our chefs to Rina Coetzee with her Senqu River Pistachios. Wercon Family Farm has perfected the art of growing and roasting pistachios to give them an inimitable flavour. See more… The bountiful family farm in Prieska that embraces many facets of providing superb quality produce to assist in our national nourishment. Proudly South African initiative!
We would like to acknowledge Professor Johann Kirsten's contribution to putting Certified Karoo Lamb on the map and joining Rooibos in garnering world applause. A huge and worthy initiative.

Mariëtte Crafford, food judge in Cape Town, spoke about her passion for the background and fascinating history of the Karoo and flavours produced from this unique terroir. Wendy Coetzee shares this interest and discussed the way forward with Karoo Lamb in Durban and JHB – a truly South African success story. Master butcher Ryan Boon chose just the perfect cuts, which he explains have the deep flavours and textures that we so enjoy although they may not be the most fashionable they certainly fit the budget in the most delicious way.
Hot Chefs; Trisha Naidoo (Durban ICC), Imraan Sithole (Southern Sun The Edward), Shanice Roberts (Southern Sun Elangeni & Maharani), Zandile Ngwane (The Beverly Hills) and Ash Krishenduth (The Oyster Box)
International Hotel School introduced the topic, hygiene in the kitchen. Often an unsung subject which needs greater illumination and one that plays a crucial role in our daily lives, particularly when we are involved in all aspects of the hospitality industry. This year the Scanpan Excellent Kitchen Practice Award will be awarded to the Hot Chef and Pastry Chef – A vital award recognising that hygiene is of the utmost importance and has to be maintained at all times.
Standard Bank's Regional Manager, Financial Consultant Lindani Mnguni shared an all important five step plan on financial health and wealth, which will stand them in good stead for their future growth. Standard Bank is encouraging of entrepreneurship in all its facets.
More and more it is important for our candidates to understand that books will open their eyes to a lifetime's life line and that a book will be there for you to lean on forever. Thank you to Penguin Random House for introducing us to the pleasure of reading and Sinoyolo Sifo, Author of Sifo: The Cooking Husband with a focus on pursuing your dreams! – A most inspirational guest speaker at the Orientation Workshop on Durban.
Sinoyolo Sifo is a pharmacist by profession, and a self-taught home cook and social-media food influencer by passion. Growing up in Mthatha in the Eastern Cape, he developed his enthusiasm for food from watching his mother cook and helping his father work in his butcheries during school holidays. Motivated and inspired by his wife, Nondumiso, Sifo began his food journey on Instagram in 2020, where he continues to amass an ever-growing following of people who love his easy-to-make, hearty and delicious meals.
Don't miss Vickie de Beer's peak into food and mores in the Netherlands! https://youtu.be/gV7ZxbWvUTw
See the Distell Inter-Hotel Challenge YouTube Channel
https://youtube.com/playlist?list
=PLXCTyqZGfREd7IEI5
BEhWYc6Iq8LMadAF
@Showcookcom | #Distell #InterHotelChallenge2022 | #Showcook