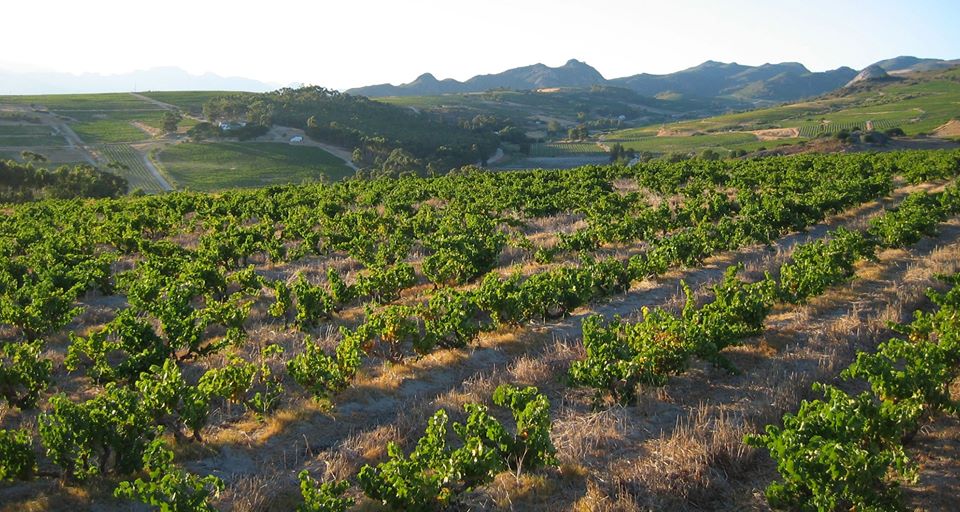 The Allesverloren vineyards stand proudly on the imposing Kasteelberg in the scenic Riebeek Valley of the Swartland. The history of this Swartland winery dates back to around the 1700s when settlers, upon returning from Stellenbosch where they travelled to for agricultural equipment and basic necessities, found their house burnt to the ground and their farm destroyed. Hence the estate's sad name, Allesverloren, which means "all is lost". But through hard work and determination, the estate's fate turned around and today it is a gem of the Swartland wine region.
The vineyards at Allesverloren range from 170m – 350m above sea level and benefit from cold and wet winters, followed by warm, dry summers when grapes ripen easily with high concentrations of sugar. The prevailing westerly winds, cool summer afternoons and the shadows of the mountain refresh the vines by late afternoon.
These various meso-climates provide the ideal conditions for creating robust red wines. The soils on this Swartland farm are a mixture of shale and weathered sandstone – a stony structure that is crucial to the particular character of Allesverloren wines. It accounts for the depth which vine roots reach here, thus sustaining strong vines and resulting in powerful wines with an excellent concentration of fruit.
In 1872 the first of the Malan dynasty, Daniël Francois Malan, arrived at the estate. After seeing how well the vineyards fared, he decided to try winemaking. The wine was soon in demand and he began to produce a sweet fortified wine, which developed into their iconic port, the Fine Old Vintage.
Danie Malan is the fifth generation Malan on the Swartland estate. He is Allesverloren's owner and cellar master and continuously taking his family's legacy to new heights. Together with winemaker Wilhelm de Vries, they believe they are merely facilitators in the process of transforming good quality grapes into excellent wines.

"We are not bigger than the wines we make; we learn more every year. Winemaking is a hobby – we try our best, wait and hope for the wines to surprise us," says Danie Malan.
The first blend in the Allesverloren range of cultivars traditionally grown in Portugal. This elegant red blend comprises Souzão, Tinta Barocca and Touriga Naçional. Deep red in colour, it displays red berry fruit and dark chocolate aromas with a hint of spice. It is smooth on the palate, with an optimal concentration of sweet red fruit.
Allesverloren has a range of 10 wines, including varietals such as Shiraz, Cabernet Sauvignon, Tinta Barocca, Touriga Naçional, and other innovative wines and blends. Their Fine Old Vintage still remains one of the most renowned fortified dessert wines crafted from Tinta Barocca, Souzão, Pontac and a blend of Malvasia Rey, Tinta Röritz, Tinta Francisca and Touriga Naçional.
In 2017 Allesverloren released their first white wine, a full-bodied Chenin Blanc. That year their Tina Rosé was awarded a Gold medal at the annual Rosé Rocks competition.
In 2014 their 2013 Red Muscadel was named
SA Champion Muscadel at the
SA Young Wine Show.
The Malan family has over four decades of experience in making acclaimed fortified wines. This, their first Muscadel, captures the flavours – and feelings – of a hot summer's day. It is an elegant sweet wine with excellent balance and a lovely freshness.
Wilhelm de Vries – a winemaker of the Koelenhof-de Vries lineage – joined Allesverloren in 2016. Wilhelm finished his B.Sc Agriculture (Viticulture and Winemaking) at the University of Stellenbosch in 2000, after which he joined Koelenhof Wine Cellar as the head red winemaker for the next 15 harvests. Wilhelm has been a seasonal winemaker in both American and French vineyards and has gained valuable experience from participating in international wine shows. He has also been involved in the marketing of South African wines in China.

"You don't get a chance like this every day – to create wines from such a special region like the Riebeek Valley, and on top of that to become part of the Allesverloren family with its rich history and traditional values. To be able to make remarkable wines from this exceptional valley with its unique terroir is a one-in-a-million opportunity and embracing the challenges that it presents," says Wilhelm.
Showcook.com So wonderful to have the opportunity to chat to Wilhelm de Vries as he discusses and answers a few of the Wine Stewards concerns and interests. 
Distell Inter Hotel Challenge #DistellIHC2020 #InterHotelChallenge