The highlight, as always, when each of the superb hotels introduced their team. Rapt attention from the audience and heartwarming performances from the Candidates as they unfolded their individual aspirations.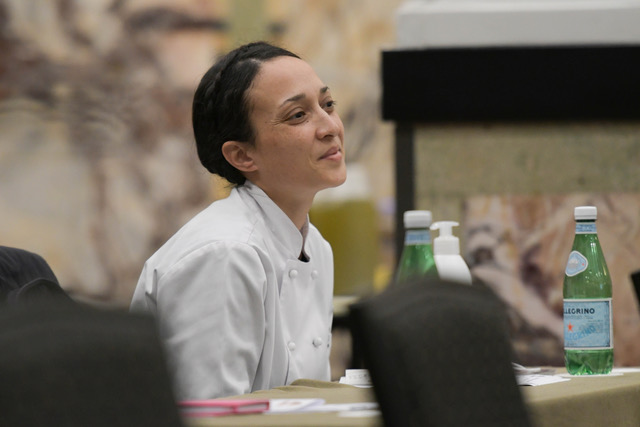 KIM GROSCH
Mount Nelson, A Belmond Hotel, Cape Town
Kim Grosch says, "I'm passionate about my trade with a 'go getter' attitude. In five years I'd like to see myself as Sous Chef of the Oasis Bistro at the Mount Nelson, and heading up a skills development program for the youth in Cape Town.

My greatest role model is my Executive Chef Rudi Liebenberg, who I met and started working with at the beginning of my career. I admire his respect and passion for not only the trade but for the produce and techniques which we use to give our guest the very best end product and experience. He continuously supports his staff and ensures that the learning never ends. Consistently sharing his knowledge and ensuring that we understand processes. He allows us to push boundaries and celebrates individuality. Chef Rudi is unbelievably innovative and always thinking outside of the box. His open door policy is something every boss should aspire to. He is fair in every decision he makes and inclusive of our thought and ideas, always.

In my spare time I love reading books, watching food related documentaries, following trends in the industry, heading out and experiencing new and upcoming restaurants. I was recently gifted Simple by Yotam Ottolenghi, which I'm loving reading at the moment! If there was anywhere in the world I could visit tomorrow it would be Japan!"
NISHAAD SAMAAI
The Vineyard Hotel
"My name is Nishaad Samaai, but everyone calls me Samaai. I've been cooking for five years and live for it. My journey started when I was very young in my grandmother's kitchen. We cooked many dishes, one of my favourites being the 'sticky lappy beef ribs'. From there I went to the "School of Skills" with chef Xenophon De Jong and was voted best ambassador for my year. Cooking has opened many opportunities for me as I got to cook for the Jazz Festival at the Cape Town International Convention Centre a few years back. I've also enjoyed cooking with my Executive Chef Mike Basset in the Myoga kitchen at The Vineyard hotel.

I'm a very hard worker and enjoy cooking everything, but meat is my favourite. I would love to travel the world and discover more things with my career. If I had to choose one destination, it would be to America!"
DANIEL BLIGNAUT
The Liz McGrath Collection – Cellars-Hohenort
"I'm motivated and success driven. Over the next five years I want to work my way to the top and run kitchens. I would love to visit Japan."
LISA TAURO
The President Hotel
"I come from a long line of strong woman. My love and passion for food started in my grandmother's kitchen. She is the whole reason I decided to pursue a career in the culinary arts," says Lisa.

"I am a hard working, dedicated and motivated chef. I love reading books, I'm currently reading The Devil in the Kitchen: Sex, Pain, Madness, and the Making of a Great Chef by Marco Pierre White and James Steen.

To broaden my knowledge I enjoy researching the latest trends worldwide. I also learn from those around me in my own place of work. No matter the rank we never stop learning from each other.
I would love to visit Greece.

What are your aims for the future? "Well, most chefs aim to either be an executive chef at a hotel or to own their own restaurants. Yes, I would also love to do these things, but ultimately I would love to teach others to cook and share my love of food with them."
MATHEW OLIPHANT
TAJ Cape Town
"I've been working at Taj Cape Town for the past five years. My mentor is Executive Chef David Tilly. I would describe myself as a people's person and fun to be around. My dream is to travel to London and work in a fine dining restaurant and learn more about their cooking techniques."
GERSHWIN HANSE
The Pepperclub Hotel
"I would say I'm very passionate about my career and love what I am doing. In five years time I see myself in a more senior role. I would love to visit Italy or France."
JC FOURIE
Grootbos Private Nature Reserve
"My aims for the future would first of all be to go and work overseas at a Michelin star restaurant to see how they work and to build up some experience," says JC Fourie. "Secondly, I would love to open my own restaurant one day to live out my dream and passion.

My role model is Chef Heston Blumenthal. I love the work that he is doing, the way he pushes the boundaries of the food industry and that he is always trying new dishes and techniques. I also like his scientific approach to cooking and food in general. The thing that makes him stand out even more is the fact that he is self taught, just like me. I love the fact that he taught himself and became one of the greatest chefs there is today.

To broaden my knowledge I'm trying to do as many courses as I possibly can. I am busy with a vegan course at the moment and after this I would like to do one on butchery followed by a charcuterie course. I try to gather as much knowledge as possible regarding local food and food sources. I have been on a few foraging trips where my head chef Benjamin Conradie shows me what I can use in my dishes. I try to watch cooking shows and tutorials online, just to broaden my horizon in the culinary world. I am currently reading two books that my head chef lent me. The one book is La Varenne Pratique by Anne Willan and the other is The Flavor Bible by Andrew Dornenburg and Karen A. Page"
MPUMI SISHABA
Ivory Manor Boutique Hotel
Chef Mpumi Sishaba of Ivory Manor Boutique Hotel describes himself as unconventional and experimental. "I would like to own a 50 seater restaurant in the five years and I would love to travel to Malaysia, I've heard so much about it."
THABANG MALOEDI
The Palace of the Lost City
Chef Thabang Maloedi says, "My aim for the future is to implement my African inspired fleet of signature restaurants and have a 5-star guest house. My role model at the moment is a business mogul and entrepreneur, Vusi Thembekwayo. He always strives for success and shares realistic business advice as well as a different approach towards business. I'm broadening my knowledge through constant research on new hospitality related concepts as well as learning from my Executive Chef. In my spare time I love listening to podcasts and watching videos on molecular gastronomy."
MAHLE VELLEM
Sun Time Square
Mahle Vellem describes himself as a very passionate and down to earth person. "I would like to see myself as an Executive Chef on an island. Next on my travel bucket list would be to visit England!"
LANGANENI NEKUVULE
Johannesburg Marriott Hotel Melrose Arch
Chef Langaneni Nekuvule says, "I'm a fast learner, hardworking and creative with lots of potential. I would like to develop my future and become a Sous Chef. I would like to visit the USA and experience more of their culture."
TSHEPO TSHEOLE
De Hoek Country Hotel
Tshepo Abram Tsheole, Chef at De Hoek Country Hotel says his dream is to run his own kitchen. He describes himself as hardworking and honest to himself. He loves reading the MasterChef books by Penguin Random House and his dream is to run his own kitchen. "My mother is my greatest role model, she's always encouraging me," says Tshepo. "I would love to visit Mozambique."
SIYABONGA SITHOLE
Durban ICC
"I am a very passionate and spontaneous person," says Siyabonga Sithole. "In five years, I would like to be a restaurant owner and have a cattle ranch. I would love to go to France to Cognac and learn how cognac is made."
RIANTHA CHETTY
Beverly Hills
Chef Riantha Chetty says, "I'm a result-orientated candidate. I am able to adapt to all situations. I am passionate and enthusiastic. In five years time I would like to move up the ranks in my field as well as travel to broaden my knowledge of food and culture. I would love to visit Italy."
ASANDA KHANYILE
Southern Sun Elangeni & Maharani
"If I had to describe myself in a sentence I would say, I take up space! I would like to see myself on an international playing field in five years time. If there was one place in the world I would love to travel to if I had a chance, it would be to Paris, France," says Asanda Khanyile Southern Sun Elangeni & Maharani Candidate Chef.
NTOMBENHLE ZUMA
Hartford House
"I love to learn," says Ntombenhle Zuma. "I'm a joyful person and focussed. In the years to come I want to open a small catering business and put more effort into my work."