On the menu; Denny Mushrooms with superb Rio Largo Olive Oil and flavourful Karoo Lamb supplied by Ryan Boon's Speciality Meats.
Terise Pillay – Chef, 18
INTERNATIONAL HOTEL SCHOOL
I'm an honest, kind and hardworking person that finds comfort in the kitchen and no place else.

In Five Years: I would like to be travelling and exploring the different and unique cultures and ethnic groups around the world in the hope of finding my speciality, combining all those techniques I learned and opening up a Michelin Star Restaurant here in Cape Town.

Role Model: My mother as she has always taught me to dream big and never settle for anything less. She shows me every day that hard work and being determined is the most important thing. My mother will forever be my role model as she always cooks with love which radiates the most loving atmosphere throughout our home and I admire that most about her.
Marthinus Terblanche – Chef, 20
CHEFS TRAINING AND INNOVATION ACADEMY (CTIA)
I am passionate about my career.

In Five Years: I'd like to be head chef at a famous restaurant.

Role Model: Jan Hendrik van der Westhuizen because of what he has established as a fellow South African.

Reading: JAN The Journal Volume Two by South African Michelin-star chef, Jan Hendrik van der Westhuizen.
Chulumanco Mavuso – Chef, 23
CAPE TOWN HOTEL SCHOOL
Faculty of Business and Management Sciences
Cape Peninsula University of Technology | #WeAreCPUT
I would describe myself as curious, ready to learn and try out new and exciting things in life that push me to be a better person.

In Five Years: I see myself working abroad discovering different world cuisines and exploring my passion for food and travel.

Role Model: My mother because she inspires me to follow my dreams and strive to be a better version of myself each day.

Reading: The Last Black Unicorn by Tiffany Haddish
Je'maine Cloete – Chef, 20
CAPSICUM CULINARY STUDIO
Always thriving for the best in me, passionate about what I do and love, and I'm always open to learning something new.

In Five Years: I would like to have gained enough experience and knowledge from chefs in South Africa and abroad as I would like to be a sous chef or head chef of a restaurant.

Role Model: Wolfgang Puck inspired me to follow my dreams of being a chef after watching a show of his. And now following him on social media encourages me more.

Reading: I would like to read Wolfgang Puck Makes it Easy by Wolfgang Puck
Sello Mphofu – Chef, 19
FALSE BAY TVET COLLEGE
I'd describe myself as a cautious person.

In Five Years: I see myself working in a top restaurant.

Role Model: Gordon Ramsay because he is one of the best chefs.

Reading: The Vampire Diaries L.J. Smith
Liam McNaughton – Chef, 23
SUPERYACHT TRAINING ACADEMY
I'm as stubborn as an ox!

In Five Years: I see myself working on a yacht cooking for the famous.

Role model: Gordon Ramsay. He fought for his career and his reputation as a ruthless chef made him a celebrity.

Reading: The Gulag Archipelago 1918-1956 Aleksandr Solzhenitsyn
Qhawekazi Ntlati – Chef, 23
COOKTASTIC HOSPITALITY HUB
I would describe myself as a hardworking young woman, passionate, ambitious and driven.

In Five Years: I see myself owning food trucks in different places serving a variety of cuisines.

Role Model: Zola Nene because she's a young African woman in the hospitality industry who is paving a way for female chefs. She has a restaurant and an inspiring cookbook.

Reading: Nothing but the Truth by John Kani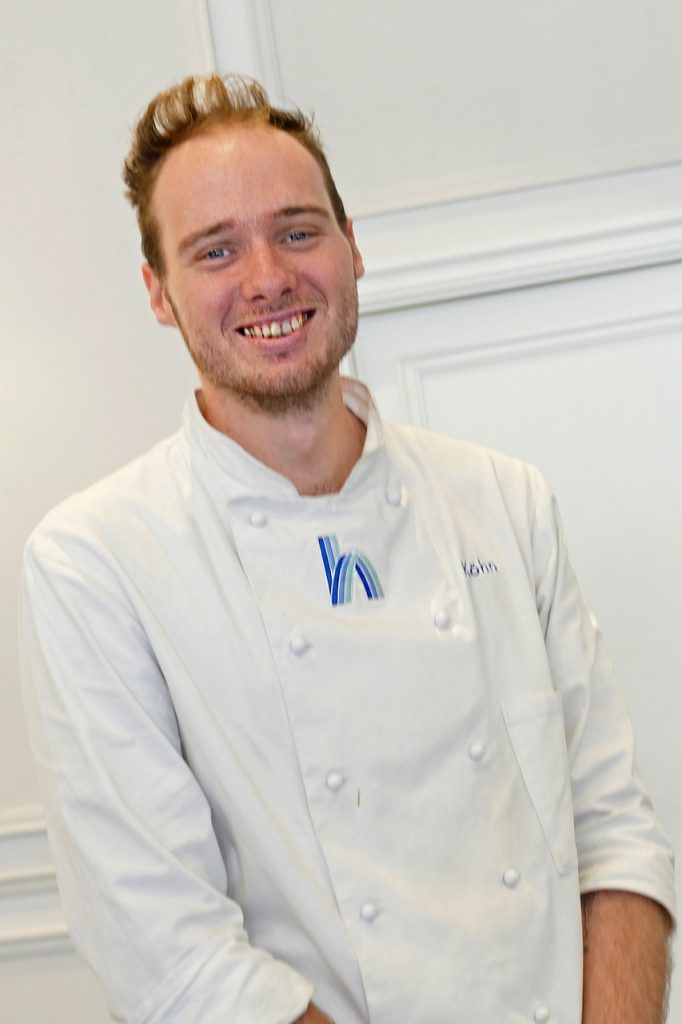 Köhn du Toit – Chef, 22
THE HURST CAMPUS 
For as long as I can recall, I have associated the coming together of good friends, good laughter and good times with excellent food and wine. I have always considered it a great privilege to participate and contribute my knowledge and enthusiasm to such occasions.

Having almost finished my 3 Year Chef Course at The Hurst Campus, I have been given this amazing opportunity to further grow my skills and knowledge about this industry as part of the Mount Nelson Reaching for the Young Stars 2022 Competition. An opportunity that I am extremely fortunate to have been given and I'm overly excited to make the most out of it.

This opportunity to experiment with and prepare top quality food from amazing sponsors excites me and aligns with my core belief of creating pleasure on a plate.

Role Models: I don't see myself as a talented chef but rather a person with a crazy obsession for hard work in this field and learning from the people that shaped the industry into what it is today.

I have been fortunate with mentors. I have harvested many nuggets of knowledge that they have shared with me.

My own Grandma – despite being a stay-at-home Mom for most of her life, was always the hardest working person in our household. Nothing made her happier than cooking for the people she loved. Her food was never meant to be posh cuisine, rather soul food where you can legitimately taste the love and care.

Neill Jewell – the most influential person in who I am as a young chef today and in some part the person I am today. He showed me that nothing is more important than making food that makes you happy. Money, fame, glory, and industry accolades do not bring or give you true and deep lasting joy.

Anthony Bourdain inspires me to travel. Watching him experience some of the world's best foods that come from the humblest of places, keeps me excited about everything that I've yet to try and taste!

Reading: The Unknown Kimi Räikkönen by Kari Hotakainen